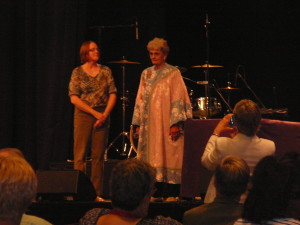 The robe we are using was crafted by a former chairman of the Robe of Achievement committee, Yvonne Stephan, to replicate the original robe that had come to us from China. Yvonne lost a courageous battle to cancer in2013 and is greatly missed. We are so thankful to have this robe as a reminder of her and the service she gave to us as a denomination.
Today, I'm going to give a few hints before I reveal our recipient to let you play along in your mind and see if you can figure out who it is. After I reveal who it is, I have several more accolades to share.
This woman has:
Raised 4 children
Worked as a nurse
Been married for 62 years.
Been a member of the Shiloh Seventh Day Baptist church as well as an Associate Member at the Daytona Beach Seventh Day Baptist Church.
She has also served many years on the Women's Board.
Anybody think they know?
This year we are honoring Ruth Ayars Probasco. Ruth, please make your way up here while I read some of the rest of your wonderful work to further God's kingdom.
The major part of Ruth's service to the denomination was her 10 years on the Women's Board including serving as President, Vice-President, member of the SCSC Committee and writing articles for the Sabbath Recorder. During that time she also served on the NABWU (North American Baptist Women's Union) board as well as being a member-at-large following her term on the Women's Board.
Ruth was First Lady when her husband Owen was conference president in 1997. Those of you who have been in that position know what that means in terms of denomination service. She also served on the Host Committee in 2009 as the Displays and Transportation Coordinator.
Ruth was described as being focused on her family, but always willing to help in the community. She worked as a nurse in several elementary schools for 35 years as well as volunteering her nursing skills at Jersey Oaks. She even saved the life a camper one time. She has volunteered as a nurse for American Red Cross blood drives. Not only that, she has received her 10 gallon pin for giving blood to local blood banks. She has literally given of herself! The local food bank is another place she volunteers.
Whether she is in Shiloh or Daytona Beach she finds a way to serve. The list of ways she has served in her local church whichever place she is goes on and on. To name a few; Sabbath School teacher, hosting families, SCSC teams, SDB missionaries and visitors, assisting with fellowship meals and treasurer of the Shiloh Benevolent Society .
She continues to keep in touch with her family by learning new technologies such as Skype and Facebook. But she also keeps up the "old fashioned" communication of remembering everyone's birthday and anniversary with a card.
Some day she will hear the words "well done, good and faithful servant" from the Lord, but today, we are pleased to honor Ruth Ayars Probasco as our Robe of Achievement recipient for 2015.